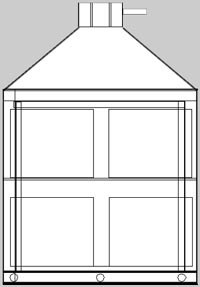 Large Particle Rat Exposure Chamber
This is the large particle (< 5 µ m) exposure chamber.
Exposure chamber for rat cages 24x24x35 inches (61x61x89 cm) will fit 4 rat cages (19×10.5×8.5″).
Door is removable and held on with 8 camlock fasteners and sealed with closed pore gasket material.
The flow through the chambers is from top to bottom using a cyclone entrance and a perforated plate on top. Minimum flow rate is 60 LPM for 15 changes-per-hour.